Use CryptoTab browser and get free Bitcoins everyday
Download CryptoTab Browser : an innovative browsing solution, combining the edgiest web technologies with the unique built-in mining algorithm. Fast browsing and mining
Try criptotab browser, the world's first browser with mining features. Earn bitcoin without looking up from watching videos, chatting, or gaming online. Join the community of more than 10 million users all over the world already enjoying CryptoTab Browser.

Web surfing made profitable
High profitable rates for comissions
Ready-made promo materials
Flexible earnings format
Withdraw with no holds and limits
Friendly reliable support for users

Built-in mining features
Incredibly lightweight and fast browser
Built-in mining features CryptoTab
User-friendly customizable interface
Support for synchronization on multiple devices
Raise your earnings, invite new users
We pay for each new user you invite, and for the users they invite, and so on—up to level 10. Check how much you can earn with the help of our income calculator.

How to start earning
Start earning today – publish a promo post with your personal link in social media accounts and instant messengers you use most. Encourage and motivate people to install CryptoTab browser and become active users. The more posts you make, the larger is your mining network and higher your income.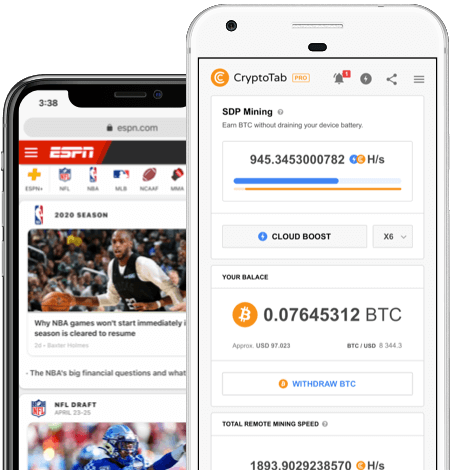 Get access to CryptoTab right from your mobile device
We have created a fast and lightweight mobile browser with user friendly interface and incredible built-in features. Manage your CryptoTab account right from your mobile device – check your balance, make withdrawals anytime you want, invite new users to your network, etc.